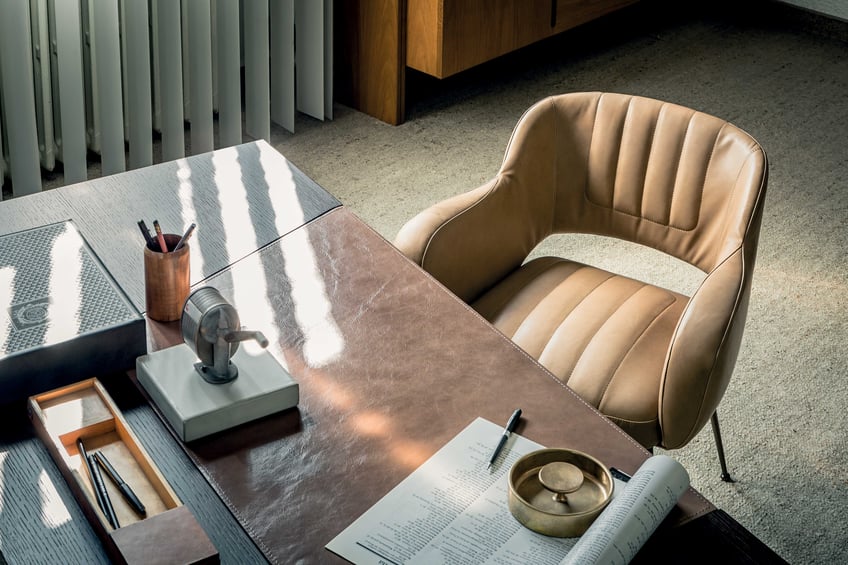 It's almost 2018, and the number of people working from home continues to increase. Freelance consultants, writers and software developers (just to name a few vocational standards) reach new heights in innovation and creation from the comfort of their home more and more. With this in mind, it's only natural that the place in which your work should mimic the internalized serenity desperately needed to reach "flow". What do we need? A modern desk set. When do we need it? Now.
So, here are two modern desk sets that will inspire more than just your average work week.
1. Sol Smart Solo Piece
By Team 7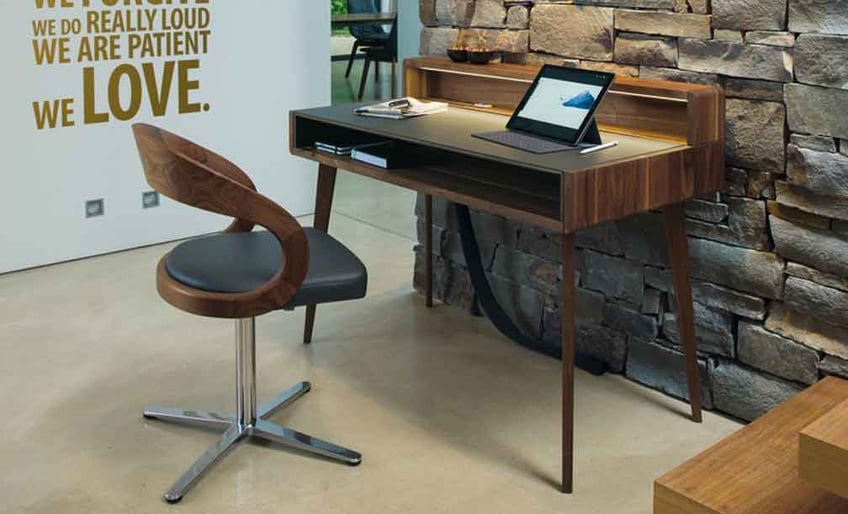 Team 7 has mastered the art of craftsmanship with their innate interest in organic, manually constructed, and built to last furniture and kitchens. And while the office is meant, for most, inside, this Austrian-based company brings nature's most functional elements to your home office. This modern desk set can be custom ordered to match your tastes in a variety of "homegrown" woods from the Team 7 forest: walnut, cherry, oak, maple, beech heartwood, beech, and alder. Additionally, the Sol appeals to the ultra-minimalist, or the more traditionalist with the option of a floating desk or a tapered leg to the ground.
Full list of features included in the Sol by Team 7:
Solid wood base and table-top (available in walnut, cherry, oak, maple, beech heartwood, beech, and alder)
Free-standing, or floating (supported by two legs) options
Adjustable, extendable leather writing surface (available in 27 different natural and top grain dyed leather colors)
Optional attachment with dimmable LED lighting
Power socket with a USB connection
Qi charging technology for the wireless charging of smartphones and tablets
Tool boxes, milled pen holders and a secret compartment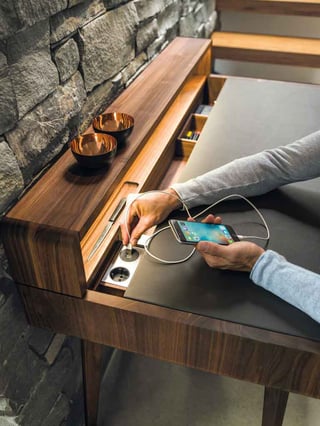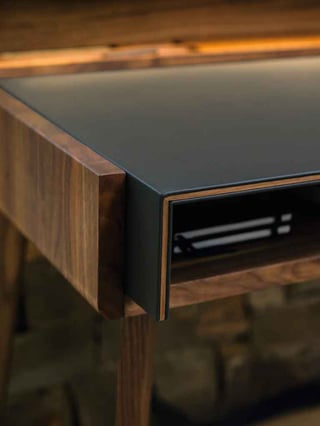 Chair Option –
Aye Swivel Base Office Chair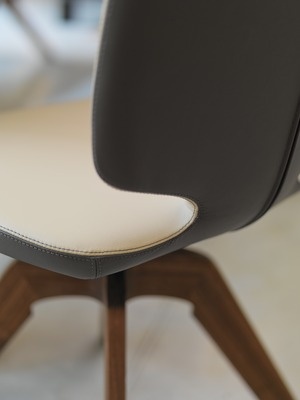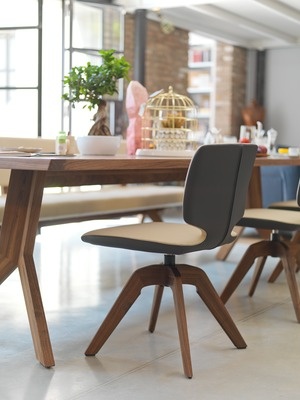 2.
Inkiostro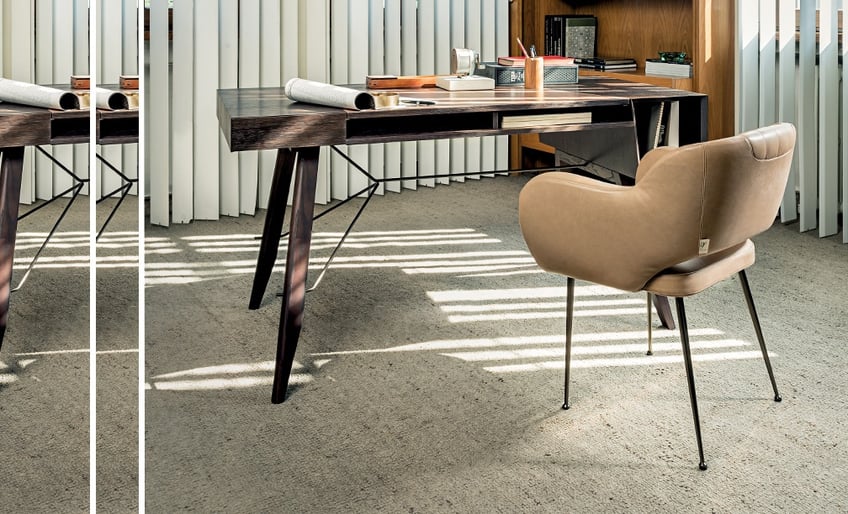 The Inkiostro desk by Arketipo Firenze is what modern furniture dreams are made of. While the desk set has modes of mid-century modernism, this is the definitive answer to modern furniture in Boston, i.e. the home office edition. The Inkiostro, according to its manufacturers, is, "A linear and adaptable desk complete with leatherette desk pad. The metal insert crisscrossing the base lends a touch of modernity to the purely vintage style of the rest of the piece. The opening of the compartments gives depth and functionality Inkiostro is not only a working desk, but is intended to create a private and comfortable space."
Full list of features included in the Inkiostro by Arketipo Firenze:
Structure of the desk made of MDF veneered in either oak moka or sucupira wood
Vertical panels stained beige Pantone 7529C
Drawn metal, finishes: micaceous brown, brass or titanium
Leather writing surface/pad cover color options available in black, white, dark brown and liquorice or in leather Pelle, Leonardo or in leather Dirt and Tribe
Tapered, wooden legs custom ordered in ash wood, oak moka or sucupira stained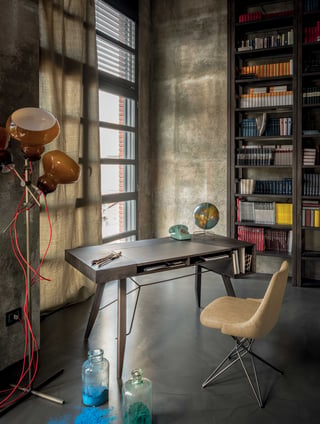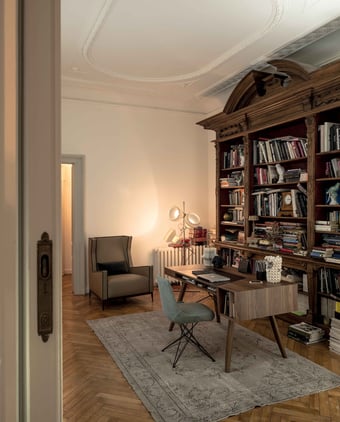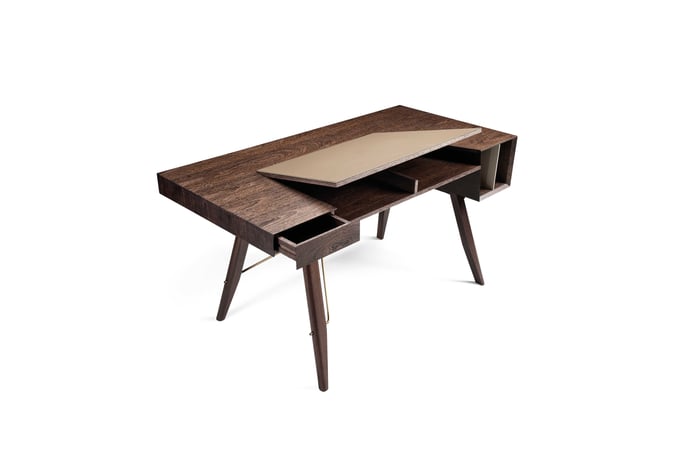 Chair Option –
Athena Chair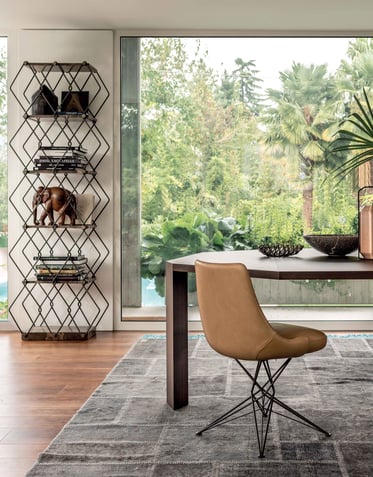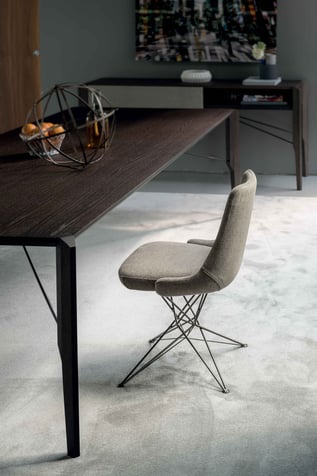 Visit Divine Design Center online at divinedesigncenter.com or inside our showroom at 2 Battery Wharf, Boston, MA 02109. Call us at (617) 443-0700.
~Madison Silvers