In 2018, modern design in the home is not just limited to the kitchen, living room, or bedroom. From vanities to the wall tile to showers and baths, bathrooms are becoming increasingly more contemporary in design.
One of the most contemporary that we work with is Italian manufacturer Altamarea. Founded in 2000, Altamarea gained a reputation not only having exquisitely designed bathroom furniture, but also for its research into new materials. They began incorporating Corian into their tops, or even creating glass topped vanities, for entirely something new and cutting edge to the market.
« Altamarea – Bathroom Boutique stands out in the national and international market thanks to its production of Made in Italy bathroom furniture, appreciated for the originality and sophistication of its collections, attention to detail and technical expertise in developing high-quality bathroom furniture. »
One of our favorite collections from Altamarea is the Loft collection.
« Aria is a young and determined bathroom model. The collection is characterized by a frame of 6 mm which keeps the containers in an elegant setting. Modern finishes like Micromalta, varnished metal and Nodino oak wood give lightness to the compositions.
The sinks in Micromalta, Koral, stone, or Kerlite SlimmKer can be integrated in the top. In addition to hanging units in wood or various lacquers colors, there are shelves with opening for towels, and colored metal open hanging units. »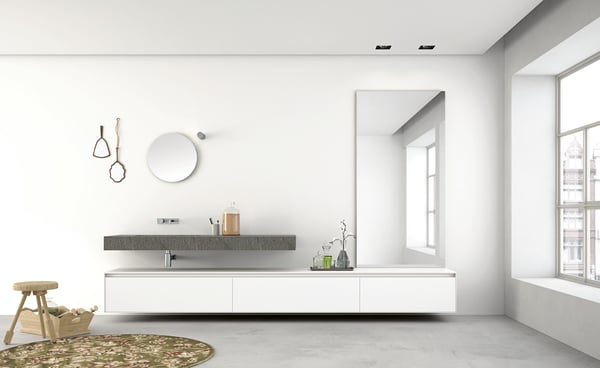 Wall mounted with the option for decorative legs to the vanity is something that stands out with many of Altamarea's designs, as can be seen in the variations of the Loft collection.
If you are interested in any of Altamarea's products for your next bathroom redesign project, or any other project you may be working on, visit Divine Design Center online, call us at (617) 443-0700, or visit our Boston Waterfront showroom at 2 Battery Wharf in Boston's North End.
~ Colin Riddle