Ask, and you shall receive...
Here at the showroom, we strive to provide interior design solutions that meet the needs of our Boston consumer. With that said, the grapevine's wind shares a desperate need for modular, retractable and all around collapsible furniture to better suit "city living".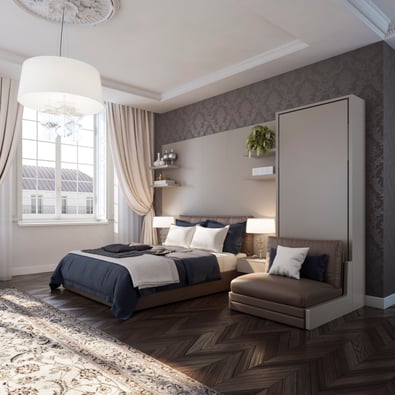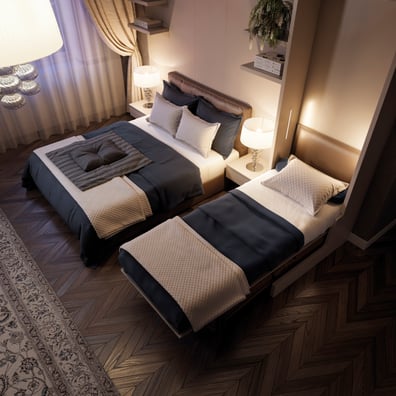 So, upon request, our fearless leaders Mariette and her husband Magued set upon 2018's Salone del Mobile in Milan, Italy to uncover the best in said inquiries. The two returned with Tumidei. The answer to all of our needs:
ON-OFF is a living/sleeping system designed to transform your house, without the house noticing. It is not the usual sofa-bed for a stopgap solution, but a real bed placed over a real sofa. With a standard mattress of 18 cm height, ergonomic and comfortable, and many modular optional elements for a complete customization. With a few simple steps the living area becomes a full-blown bedroom.

It's the ON-OFF effect, a modular system that rethinks the whole convertible idea, looking into a new way to use the domestic space.The traditional sofa-bed, always a little uncomfortable being something in between the two, makes way for a surprisingly effective and simple idea, as simple as turning on the light.

In the ON-OFF project, the seater system offers a range of modular elements, which can be assembled in various configurations. Some elements are extendable, just to allow the bed to be placed in the right position, ensuring the comfort you expect from a real bed. There are linear pieces, angular ones, in different depths, some with a "recliner" system that allows a maximum relax. Bookcases for the back of the sofa, four types of armrests, side tables and pouf with and without wheels, complete the range of modular elements of the ON-OFF.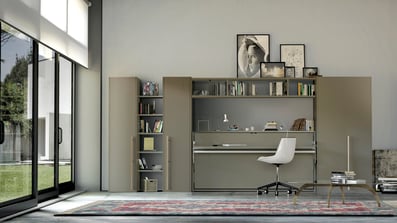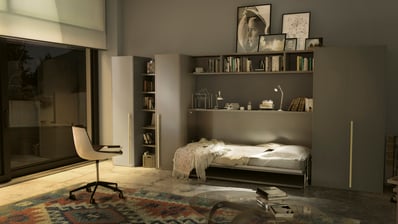 Talking Tumidei
From sleeper sofas to mobile kitchenettes, Tumidei provides the market with interior decor solutions that are practical for any type of living situation or lifestyle. However, the proverbial cherry on top is that Tumidei's line of convertible furniture and living solutions is stunning. Tumidei manages to combine relatable functionality with a high-end sense of modern aesthetics.
Born in 1958 in Predappio di Romagna, Tumidei spa has over 50 years of experience. During this time people all over the world have radically changed their idea of home, family life and, as a consequence, interior design. The continuous search of the most sophisticated consumer driven solutions for interior design, represents one of Tumidei's success factors and the motivation for the Company's thoughtful and consistent growth.
Long story short? We're in love - and we think you should be too :)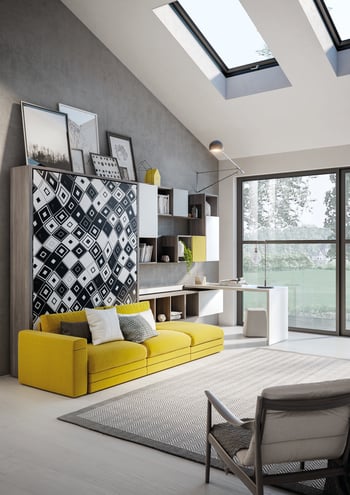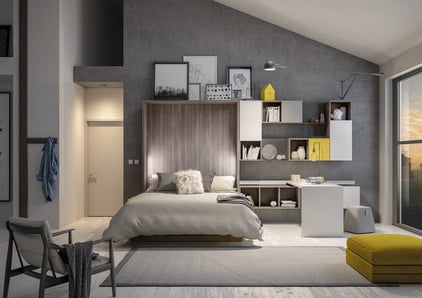 For information on Tumidei, or any other interior design inquiries we invite you to visit Divine Design Center online, give us a call at (617) 443-0700, or take a trip down to our showroom located at 2 Battery Wharf, Boston, MA 02109!
~Madison Silvers