On the last Thursday of September we had the pleasure of hosting a networking event in collaboration with our friends at New England Home Magazine to bring together many of the movers and shakers in the interior design scene here in the Boston area, as well as architects, and other influencers in the design scene.
It was a night of great food, provided by Rina's Pizzeria in the North End, and great conversation - both business related and not.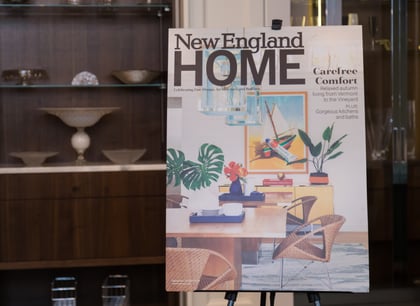 During the event, our guests were encouraged to mingle throughout our Boston showroom, explore the kitchens we have set up, test out the living room and bedroom furniture we have on display, and ask our designers questions about the anything we have on display. While there were a few guests at the event that had already visited our showroom, for many of the attendees it was their first time visiting us here at our Waterfront showroom. We were giving tours, showing off the collections we're showcasing. One of the more stand-out pieces that always attracts guests at the showroom is the TEAM 7 kitchen that people see right as they walk in.
Between the exceptional natural wood finishes that TEAM is known for and their contemporary design, by far the coolest part of this kitchen is the k7 adjustable island that sits between our front door and the matching TEAM 7 cabinets.
Controlled by a fully hydraulic system, the counter top can go from about 30 inches to a standing height of just under 48 inches and anywhere in between with just the slightest push of a button, and in the showroom is complemented with a couple of TEAM 7's gorgeous bar stools with it that make a great piece in any kitchen. Another great feature is that this island also has sensors in it so that no one gets their fingers caught underneath the countertop as it is being lowered.
We thank all of our attendees for coming to the event and especially New England Home for bringing everyone together. You can see more photos from the event on our
Facebook
page.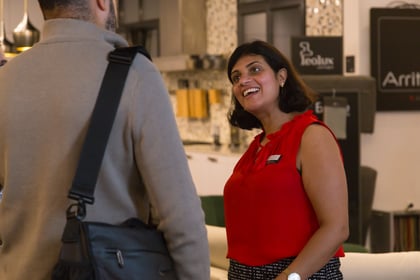 To inquire into any project you may have interest in, or into any of the furniture we have in our online catalog or showroom, visit Divine Design Center online, our Boston Waterfront showroom at 2 Battery Wharf, or give us a call at (617) 443-0700.
~ Colin Riddle