RECAP
As time progresses forward, so to does technology. And, with this in mind, the technology integrated into modern appliances, similarly, progresses. However, here at the Divine Design Center showroom, we know how uncomfortable change can be. And, we know how we are all creatures of habit: clinging to the tradition of that gas range --- that double oven. But, we also understand that tradition sometimes must be broken in light of vast improvements. As we're sure you've guessed by now, change comes in the form of a new way of cooking with Gaggenau's line of modern appliances.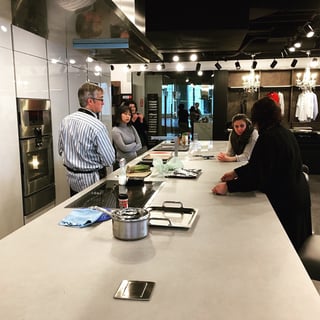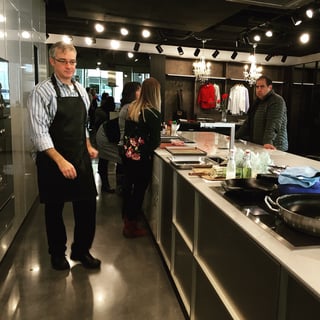 Wave good bye to testy gas ranges, and say hello to an induction cooktop. Alleviate the bulk of an unecesary second oven, and a microwave: but, do entertain the notion of replacing these with a wall, combi steam oven stacked above a single oven.
THIS WEEK'S MENU
Still unsure? Watch Gaggenau's Executive Chef Kurt von Kahle implement the seamless design of the 400 series oven, and the induction cooktop:
Tired of the typical crab cake? We are too. Try Chef Kurt's Cod Cakes with Spicy Aioli --- as demonstrated in the video above, live from our DOCA/Gaggenau live kitchen, inside the Divine Design Center Showroom.
Cod Cakes with Spicy Aioli
Induction Cook top and Convection Oven 375 ˚
by Chef Kurt von Kahle
The method listed is a basic breading procedure. To supplement the final step with different coating will create an enjoyable result for a great appetizer.
Fresh Cod Fish 1 lbs. Cut into 1/2" cubes. Flour 1/3 cup
Seasoned salt ½ teaspoon
Egg, 1 large beaten *
Milk, ¼ cup
Bread Crumbs,1 ½ cups**
Cooking Spray or Grape seed oil
1. Turn on oven to Convection Mode set at 375˚.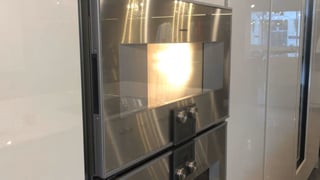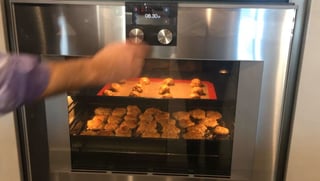 2. Following the method for a Basic Breading Procedure.
Season Fish with seasoned salt then dredge in flour.
In a small mixing bowl, combine milk with the beaten egg.
Wet the Fish with egg mixture then place into bread crumbs.
Form the pieces into a golf ball size portion and place on a plate then into freezer to set for 10 minutes.
Remove from freezer.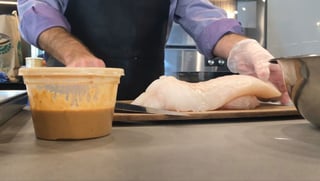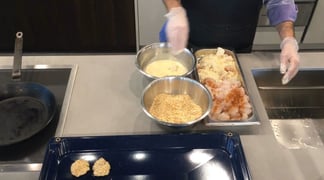 3. Place a Cast pan (or use the Gaggenau Roaster lid as a pan ) onto the cook top.
4. Turn on the Cook top to #7 Power Level.
5. After one minute, spray pan with cooking spray or drizzle 1 tablespoon oil to coat.
6. Lightly press the Cod into a patty and add to pan to sear for approximately 1 minute to crisp the bottom.
7. Turn over once to oil the other side of the cake, then place onto a baking pan and put into oven on the middle rack level.
8. Cook for about 8 minutes or until it is firm when pressed.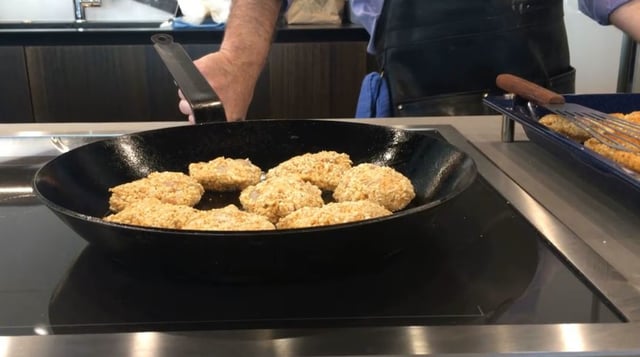 9. Remove from oven and serve with aioli and mixed greens.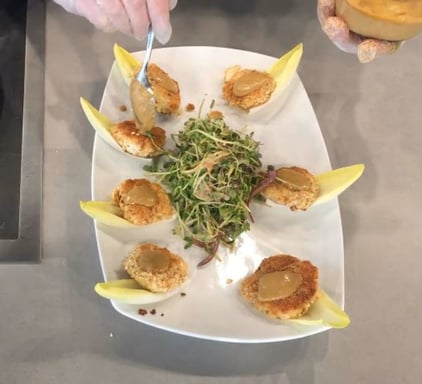 *If you don't have or want to use egg, supplement with plain yogurt. You will only need enough to coat the Fish
** Alternatives for Bread Crumbs:
Panko or Cereal such as corn flakes, Almond Granola Crunch, Kashi. To create crumb consistency, pulse in a food processor or place in a Zipbag and crunch with your hand or roll a baking pin, jar or bottle of wine over the cereal to crumble.
Visit Divine Design Center online at divinedesigncenter.com or inside our showroom at 2 Battery Wharf, Boston, MA 02109. Call us at (617) 443-0700.
~ A Madison Silvers + Kurt von Kahle Collaboration