One of the hardest challenges facing today's condominium buyers is maximizing the usage of their space. Unlike when buying a traditional home, you cannot expand the space that you're purchasing. Often times, developers will plan out the closet areas but without much imagination, mostly to meet costs and building code but also for ease of construction. But, there is one thing that potential buyers will always need – storage.
ENTER THE EUROPEAN WARDROBE SYSTEM
We have featured European wardrobes once or twice on the blog and with a lot of or newest projects bridging more and more into the luxury condo market, it makes sense to bring up the subject again. Our European wardrobe systems are always a when clients visit the Boston showroom. Being standout pieces, the one thing that everyone always notes is that they're not just sleek and stylish looking, but functional as well. Wardrobe fronts can vary from not only the most sleek of European stylings, such as glass, mirrored, or high gloss lacquered doors, but to more transitional and traditional styles of shaker-style wood doors that we see in many New England homes' cabinets.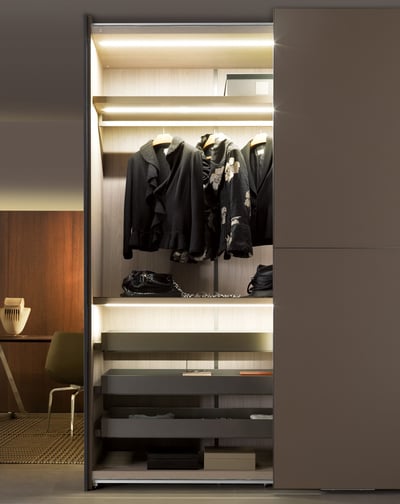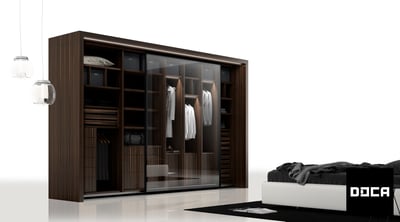 These wardrobe systems aren't limited to just the luxury condo buyer. In fact, while it is an ideal market for such products, these make an ideal choice for someone looking to increase their closet space in their more traditional home setting. Including a European wardrobe when looking to update your bedroom is a great way to gain closet space without adding on extra construction costs in any Design + Build project or even smaller in-home updates. Ease of application is a massive draw to these products. Here are the two many reasons how:
There is no need for additional onsite construction. Sized to fit in your home from the moment the order is placed, most systems just need to be put together in the home and do not need any additional framing, flooring, and trim to be installed.
The majority of European systems have the option to have their own built-in lighting. This removes the cost of additional electrical work to be done.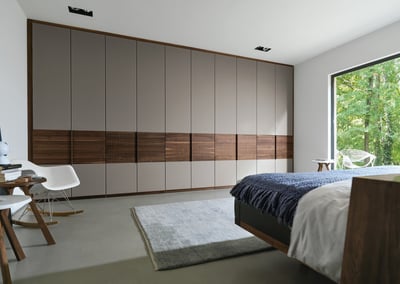 These systems are easily customized to suit your needs, and integrating them into the necessary space, as mentioned above, is exceptionally easy. European wardrobe systems offer the best of both worlds – style and functionality.
For more information on the European wardrobe systems we offer, or information regarding any other project you might be working on, please visit Divine Design Center online, give us a call at (617) 443-0700, or visit our Boston waterfront showroom at 2 Battery Wharf.
~ Colin Riddle