Developed in luxury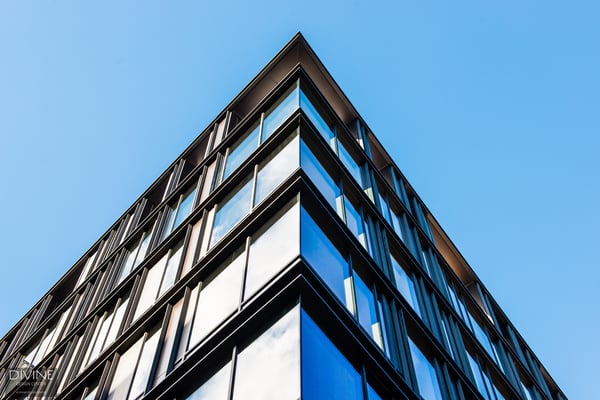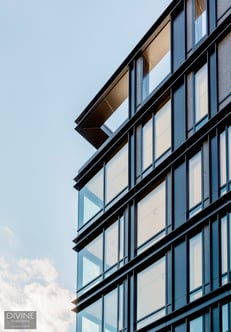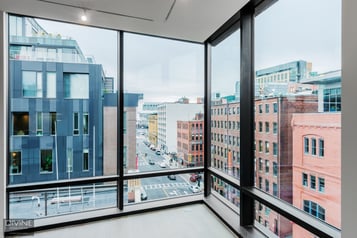 Nestled in between some of Boston's greatest restaurants and most recent developments lies a project just marked finished. At the corner of Farnsworth and Congress Street is a recent development that envelops a city on the cusp of architectural and technological innovation. The 338 Congress building sits adjacent to the city's fire department museum, and like the fire's historically put out in the city, the 338 Congress development is at the helm of this city's unstoppable, growing infrastructure (somewhere we find a metaphor to fire's purchase towards renewal in the former midst of desolation that used to be Boston's seaport district).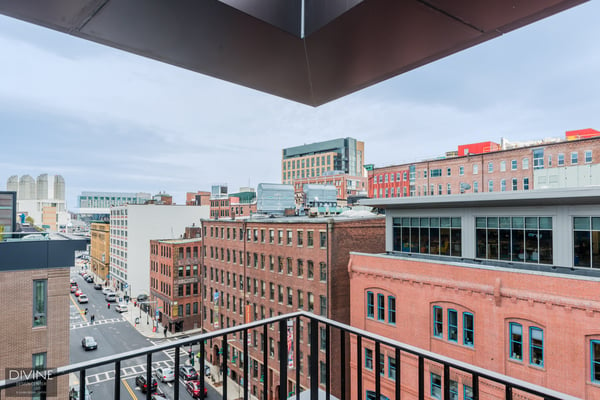 Hence, a beautiful partnership was formed in the erection of this newest addition to Fort Point. Divine Design Center worked closely with JB Ventures, TCR Development, Sea-Dar Construction, and CBT Architects in what now concludes a modern extension closely associated to the artists and creative types still echoed in the exposed brick and narrow walk ways of Fort Point.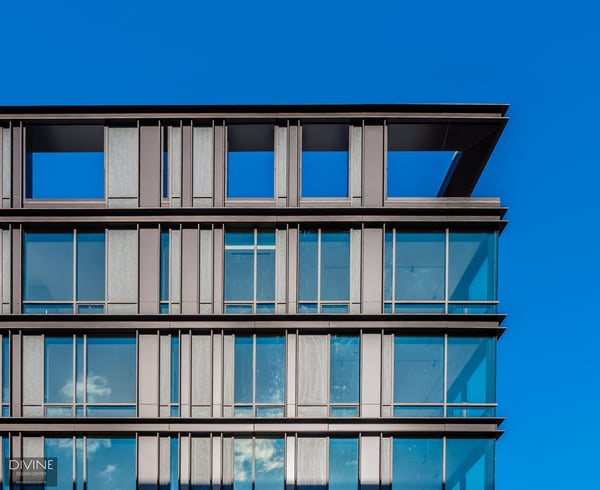 While our partners on this projects are responsible for the unmistakable, matt black window frames and architectural silhouettes that make up the exterior + interior of 338 Congress, Divine was thrilled to add our European namesake to the mix. For, contemporary design so intrinsic in Europe's design motifs were a natural direction to take the individual units of the building in. So, for this project Divine expresses more than just the old saying "When in Rome…" in the collaboration of three of our closest Italian partners:
The Kitchens:
For the kitchens, we value engineered the gleaming answer to cooking and living spaces begging for European cabinetry. The open-floor concept designed by CBT Architects offered up complementing forms enraptured in white-on-white kitchen trends from Arrital Cucine.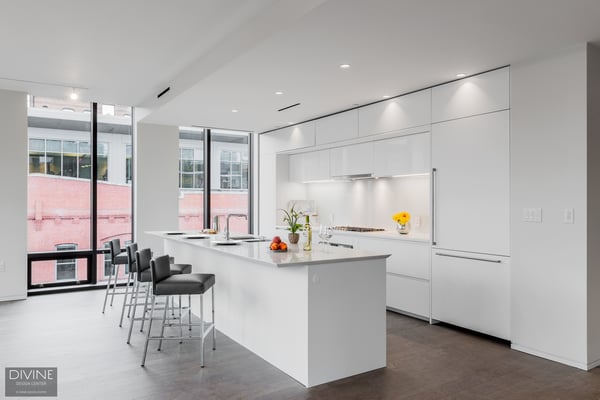 Cabinets:
Combination handle-less and appliance-paneled (with brushed nickel accessories) from Arrital's AK_Project Series in White Melamine.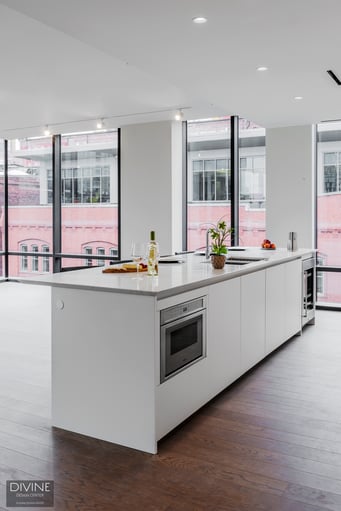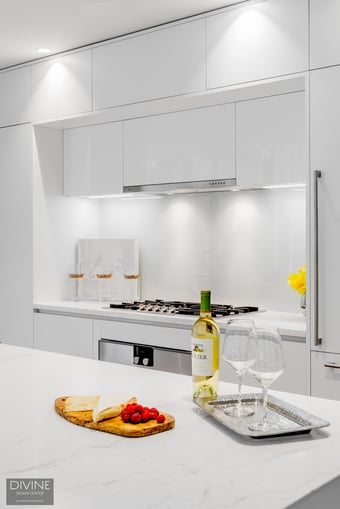 "Ak_Project
Complete System...
Design and practicality have led towards a new design objective.
Various aesthetic and practical solutions, brought together in a single collection that harmoniously combines objectives and materials.
The broad range of available finishes and the selection of modular systems ensures kitchen designs are tailor-made to suit user needs. The same project can be adapted to all finishes, without needing any substantial changes.
The multiple opening solutions have each been designed to satisfy practical, ergonomic and aesthetic needs.
Ak_Project, a complete system"
Appliances:
As previously mentioned, we worked closely with the rest of our collaborators on this project to identify modern design theories and consequently implement these in both form and function. At the forefront off these theories lies fully-integrated appliances: here we see both the refrigerator and dishwasher align with these integration. The dishwasher, a member of Miele's Futura Series, and the refrigerator, a member of Gaggenau's line of luxury kitchen appliances. Furthermore, the units' also gained the addition of a 200 series Gaggenau gags cooktop and visor hood, as well as a 24" Gaggenau built-in microwave drawer, a 400 series Gaggenau single oven, and in the penthouse, an under-counter Gaggenau wine fridge.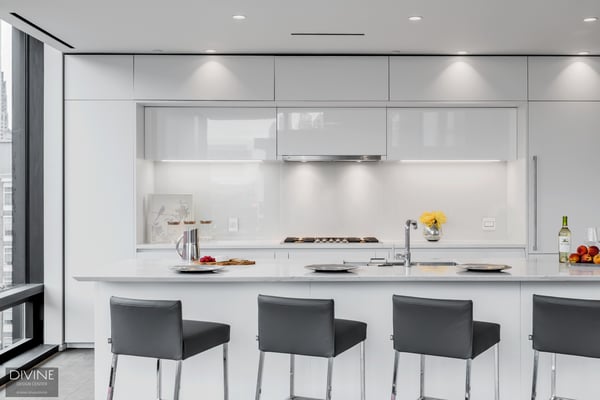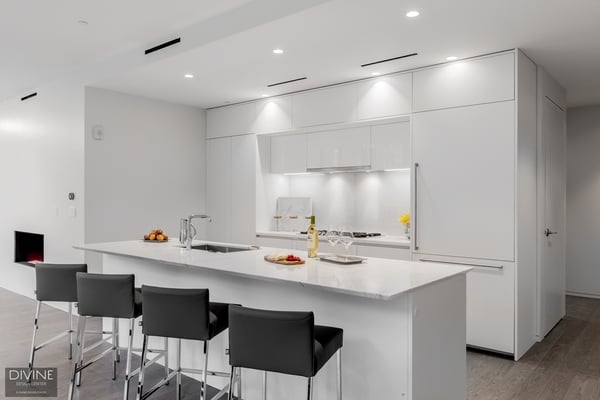 The Wardrobes:
The wardrobes throughout all of the units were additions manufactured (no pun intended) via Italian design house Pianca. The Plana wardrobes by Pianca were designed to fit into carefully designed niches in the entryways, guestrooms, and hallways of the 8 units plus the 9th penthouse. The wardrobes comprised of exterior finishes in Matt-Melamine "Tortora", with an interior "Tera" Eco Veneer. The wardrobes were finished with interior, stainless steel accessories and cutting edge, interior LED lights carefully integrated below the upper shelving, and motion-censored upon opening.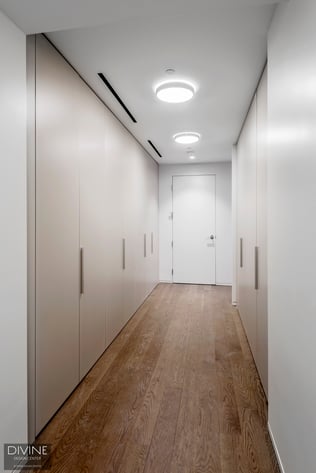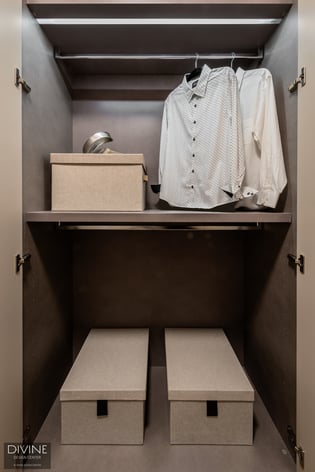 "PLANA...
Simplicity, versatility, freedom of furnishing with Plana. An essential and linear door, which can be custom size, available in several finishes and with several handle types. Its essential nature leads to true versatility, allowing for a wide range of solutions.
Tidy wardrobe interiors are guaranteed by an extensive array of internal fittings, functional solutions with painstaking care for details. The shelves and cubbies stand out for their thickness, while the drawer units can be made with wooden or glass fronts. The choice of fittings is available in the range of lacquered and wood finishes and three finishes for the wardrobe structure: Bianco Talco, grigio texture and borgogna."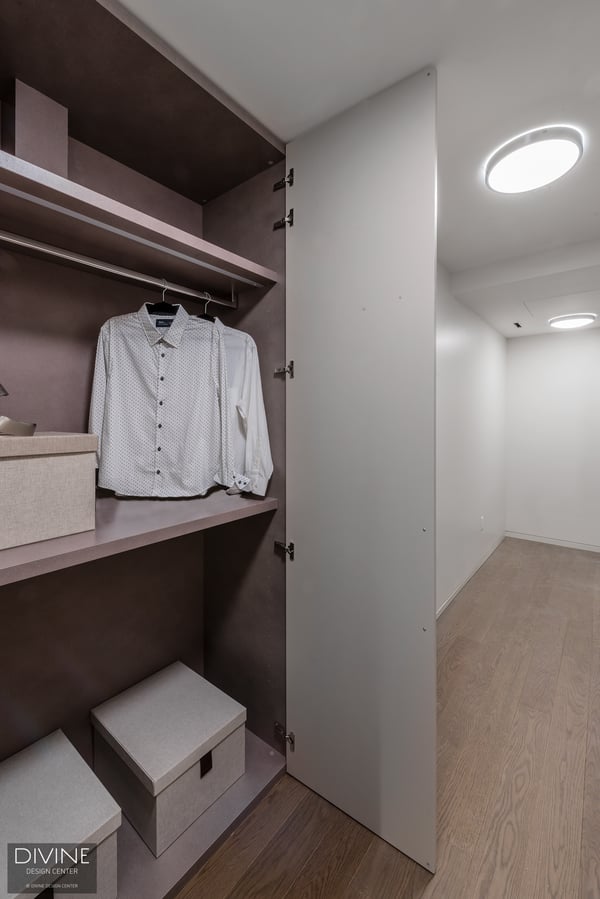 The Bathrooms:
The bathroom vanities throughout all of the units in this development are engineered and then sourced through our Italian partners AltaMarea Bathroom Boutique. The finishes on these gleaming, floating vanities are a combination of stone oak, and oak vertical-grained veneer cabinet fronts from the Modo Collection.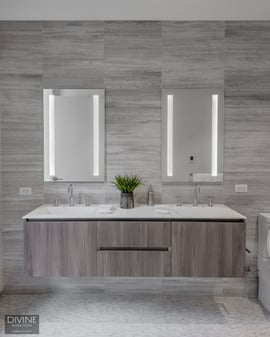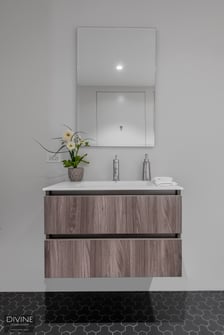 "Modo Collection…
Has been made for a bathroom decoration with Nordic style and some fades of Mediterranean wood, with alternation of soft and deep tonalities as ground nuances.
The minimal style is perfect for the service bathroom decoration, but also for the master bath, where it better expresses the beauty of finishes, the functionality of its complements, and the delicate and linear style with a strong personality. Therefor the used materials, such as Mineralmarmo, Koral and Kerlite but also laminates with wooden effect, last for long time."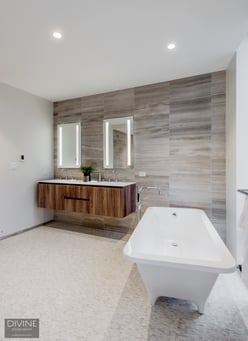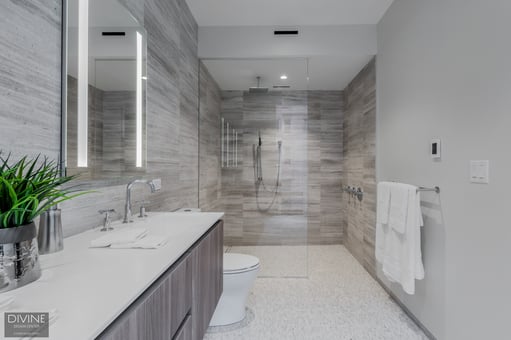 To inquire about adding European cabinets, appliances, and/or wardrobes into your next development visit Divine Design Center online, give us a call at (617) 443-0700, or visit our showroom located at 2 Battery Wharf, Boston, MA 02109!
~ Madison Silvers