As the winter begins to wind down in 2018, the question of home entertaining comes to the forefront of your future, warmer weather days. First, comes Easter, Passover, and well, the whole line of pastoral "familial" holidays. All of which, require more than just your immediate family's presence. Second, Memorial Day barbecues kiss the horizon of your sunnier days. And, then the list of summer-time festivus-ing. All of which, again, require more than just your immediate family's presence. Whether it be extended family, or your extended list of friends, the reality is, is you probably need more dining space.
The obvious choice is an extendable dining room table. The even more obvious choice is to invest in one from Team 7: your solid-wood source from Austria; specializing in organic, hand-crafted sustainable furniture. Just say, "yes please." and repeat.
1. The Nox Dining Room Table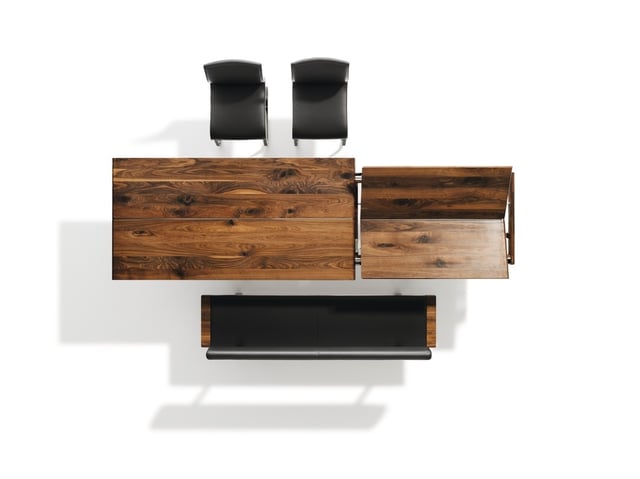 "With its smooth synchronous extension and the gentle, protective 2soft swivel technology, our nox table can easily grow by 60 or 120 cm. So you can create space for four more people in next to no time. The beauty of it: the table top extends on both sides as a result of the sophisticated design, while the slides stay in their place, as will your guests."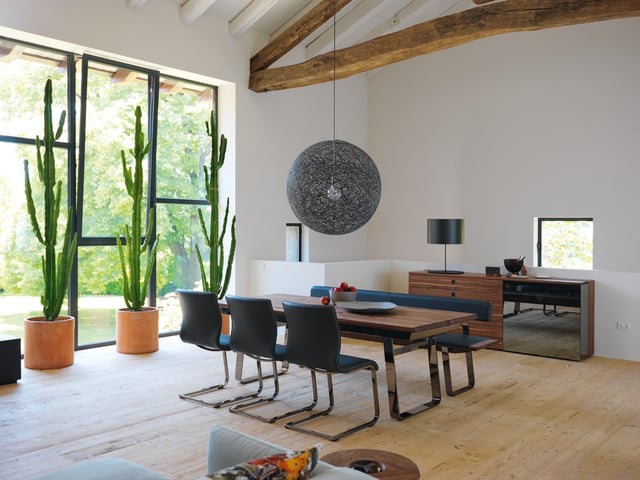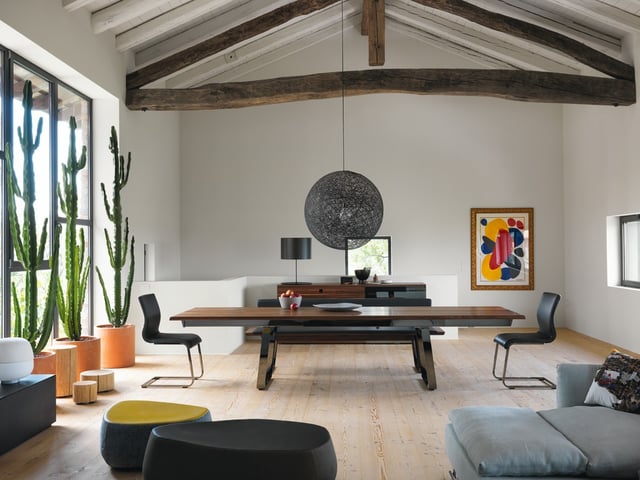 2. The Magnum Dining Room Table
"We won our first major design award in 2005 when we received the Red Dot Design Award for our magnum table. This table is still one of our absolute bestsellers. This is because of its timeless design on the one hand and its sophisticated extension technology on the other which can be operated using one hand, and continues to set the benchmark today. The integrated inserts allow the magnum table to be conveniently extended by 50, 2 x 50 or 100 cm in next to no time. The patented 2soft swivel technology ensures gentle movement in both directions, making it extremely easy to use and handle."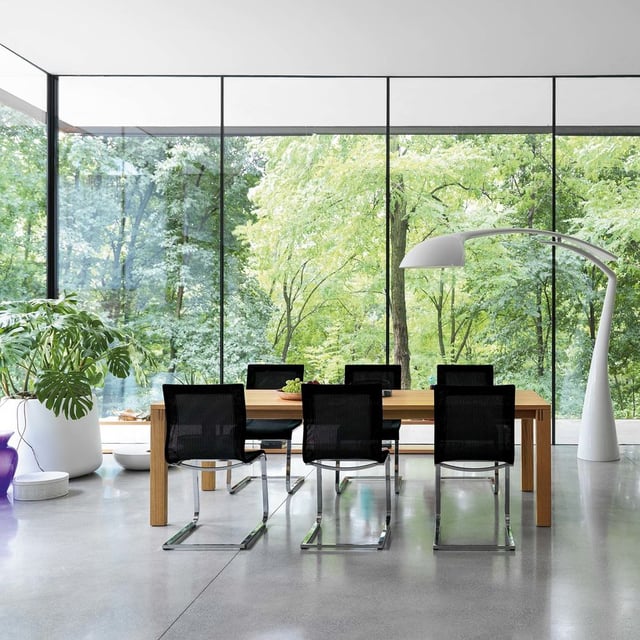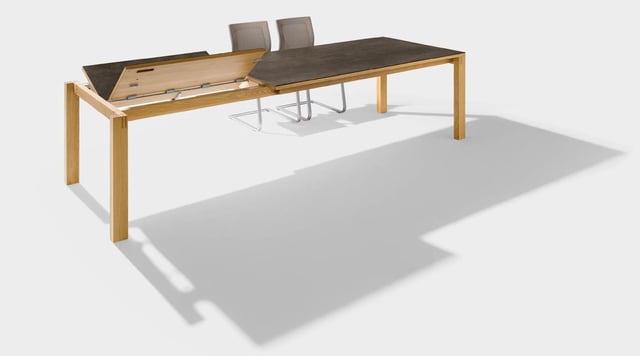 3. The Tak Dining Room Table with metal legs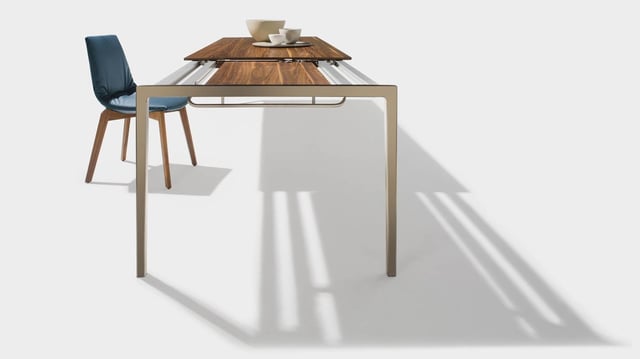 "The focus on the essentials determines the form and function of tak. Three simple, intuitive steps are all you need to operate the revolutionary extension. The uncompromisingly slim shape perfectly conceals its extension and at the same time offers seating with maximum legroom. As if it were assembled from flat surfaces, it combines organic accents with a cubist design language, both as a non-extendable table and as an extended one. The strong but slender solid wood panel, just 16 mm thick, can be extended to up to 3 m in length. You can choose a base made of shiny chrome, matt chrome or matt bronze."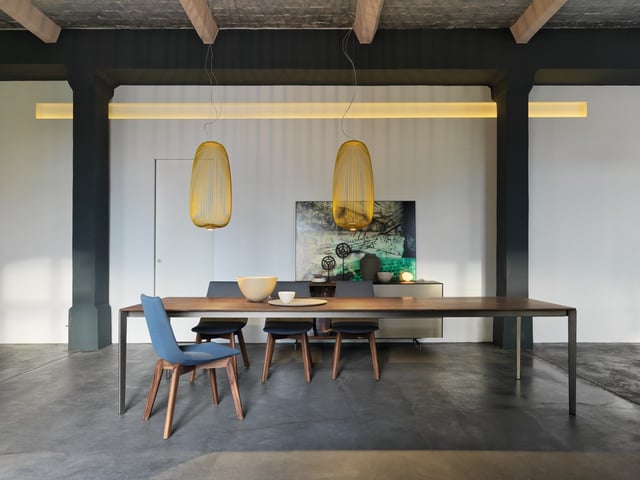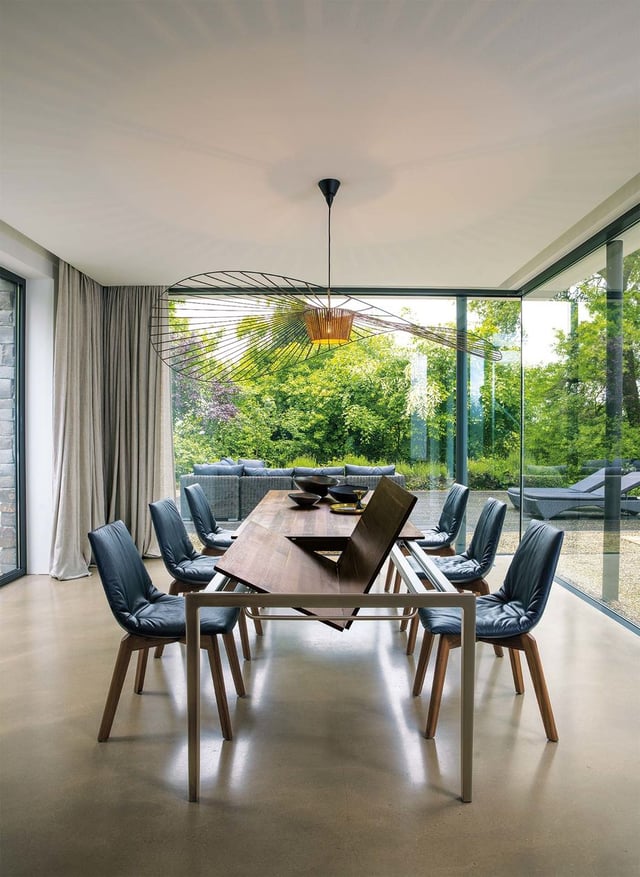 To see the Magnum, Nox, and Tak tables by Team 7 in person, visit Divine Design Center's Boston showroom, 2 Battery Wharf, Boston, MA 02109; give us a call (617) 443-0700, or visit us online here.
~ Madison Silvers