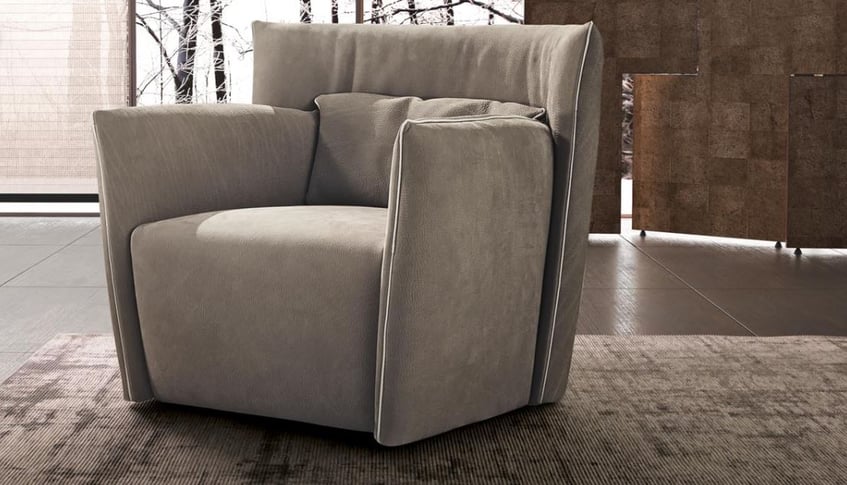 Meet the coolest modern, occasional chair...
...to hit the market since sliced bread. And while we recognize that sliced bread doesnt necessarily hit the cool thermometer in a lot of peoples books, we see something different. Like the Tulip chair by Gamma, sliced bread is diverse, universal, and really good (unless you have a gluten allergy of course). So, the Tulip Chair inherently defines and hits a lot of marks in contemporary design theory. It is minimal, it holds its weight, and here are the three reasons why you need it in your own home (sliced bread aside):
1. Quality -
Gamma prides itself on it's Made In Italy crest. However, the Italian furniture makers exceed even the highest standards set in the country it works out of. From the original engineering of the Tulip, to the cut, sew and upholstery --- no page goes unturned. Additionally, one chooses from an expansive collection of luxury, quality-controlled leather options unfounded in Gamma's competitors.


2. Style -
We all need to be a bit more minimalist these days. Or at least we could benefit from doing so. As consumerism reaches new heights, we cling to the notion that to do away with, in effect, we must sacrifice all. However, the quirky + for lack of better term "cool" (sorry for the redundancy here) form of the Tulip chair disqualifies the latter theory. For, the Tulip has serious aesthetic chops. But, more importantly, its minimal lines, quality stitching, and ultimate comfort make the chair a statement piece with timeless appeals.

3. Swivel -
Okay, okay so we recognize that "swivel" in sequence to such milestones as "quality" and "style" appears unmatched. However, the swivel design in both occasional and dining room chairs is the buzz word here in the divine showroom office. We love swivel chairs, and so should you. And, if you're not sold on the swivel --- there is a stationary tulip too.
Additional notes and features on the Tulip by Gamma:
Hard wood frame, seat suspensions in reinforced elastic webbing.
Seat depth 50 cm - 20".
Seat height 41 cm - 16".
Seat width 60 cm - 24".
Seat cushion and frame in polyurethane covered with dacron wadding.
Lumbar support in feather.
Wood legs height 3,5 cm - 1" ½.
Stitching CUC 501B.
Swivel base in chrome, brushed and painted black metal.
For more information on Gamma and the Tulip Chair visit Divine Design Center online at divinedesigncenter.com or inside our showroom at 2 Battery Wharf, Boston, MA 02109. Call us at (617) 443-0700.
~Madison Silvers