[video width="854" height="480" mp4="https://divinedesigncenter.com/wp-content/uploads/2017/07/Raquel-X-Naos-Quasar.mp4"][/video]
Let's talk extendable dining room tables
So long are the days of inconvenient extendable dining room tables. You felt it. We felt it. The world has felt it. What is this universal condition? The vague inkling of dread. Dread in knowing that this night's dinner party or extended-family affair will require one daunting task. The task, you may ask? Trying to get that dining room table to extend without pulling a muscle...or five. Naturally, the idea of an extendable dining room table is appealing. One get's the best of both worlds. He or she can enjoy their day-to-day lives without trying to navigate around a table too large for its space. While Additionally, the same hypothetical he or she can accommodate more than said space might typically allow for. However, the trials of trying to extend said table make the juice almost not even worth the squeeze.
A steadfast solution
But, modern, Italian design provides an idyllic answer. Enter Florentine furniture designers NAOS. The proud made in Italy purveyors stick to their slogan "Against fixed ideas". And, NAOS' solution to the extendable table is a close cry to their Veritas. Say hello to seamless adjustments and good bye to crawling under your former extendable dining room tables. The Quasar dining room table from NAOS is party beauty, part engineering. The glass table top and legs combine with steel hardware in juxtaposed aesthetics. Furthermore, The table is equipped with a synchronized mechanism with lateral extensions for widening and central extension lifting. The Quasar's ingenious design propels its owners into small and large iterations with the simple glide of a lever.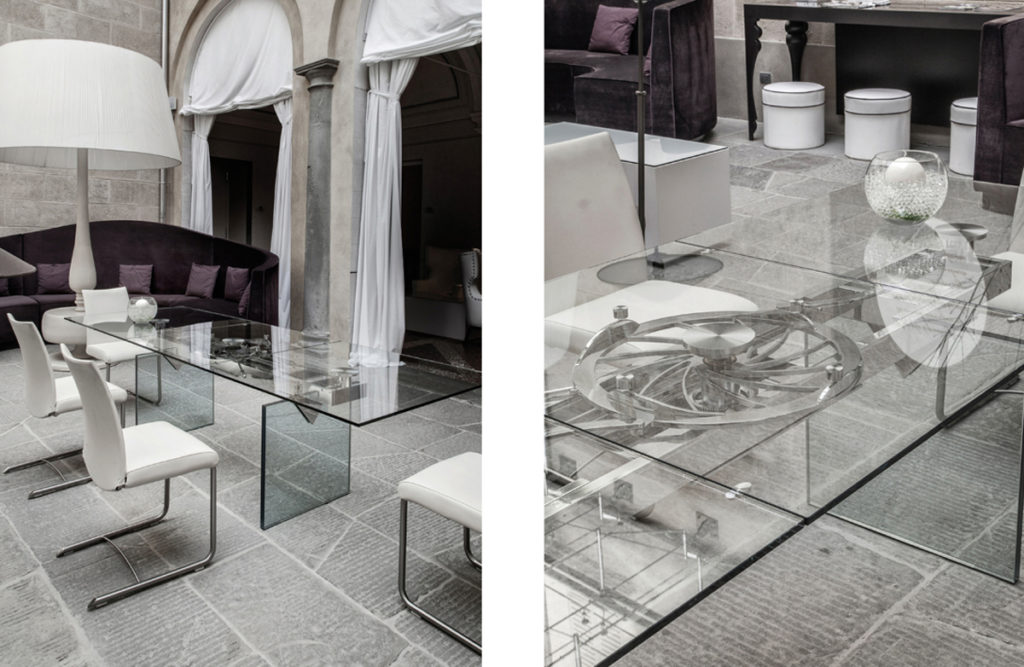 Parting words
With all of this ease, the natural progression comes next to ease of purchase. Boston's premiere, modern showroom Divine Design Center offers NAOS's dream extendable table in the city, and beyond. The European design mecca provides its services and products internationally. The Quasar is available, as well, in a motorized version. Thus, allowing imminent owners with a simple click of a remote instead. The dimensions of the table measure 39.25" w X 78.74"-110"l cm.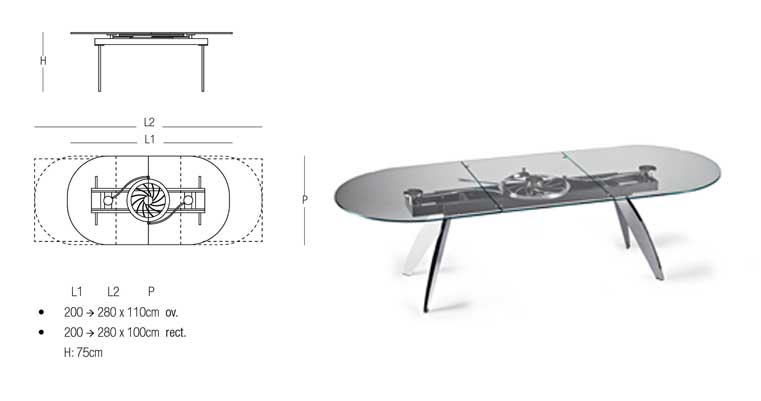 ~ Madison Silvers