Houzz is one of the best places on the Internet to find design inspiration for your home, especially when it comes to kitchen design; since it's complex and expensive, it's important to make sure that you do plenty of research on the look and layout that will work best in your home. Of course, pouring through the hundreds of thousands of kitchens on Houzz can be overwhelming. If you're looking for modern kitchen inspiration, here's a great place to start your search. These are our top 10 most-liked modern kitchen design photos on Houzz.
Our Most Popular Modern Kitchen Photos on Houzz
Sleek, Defined
Three snapshots of this kitchen, seen below, are among the top-10 most viewed photos on our Houzz profile, making this space, located in South Boston, our most popular design. It's not surprising given that the space combines many of the most popular modern kitchen design trends: a cool-toned gray and white palette, quartz countertops, flat-front cabinetry and handle-less doors, plus a glass subway tile backsplash and top-of-the-line appliances, some of which are concealed behind custom paneling. Want more photos of this kitchen? You'll find them on our Houzz profile, here.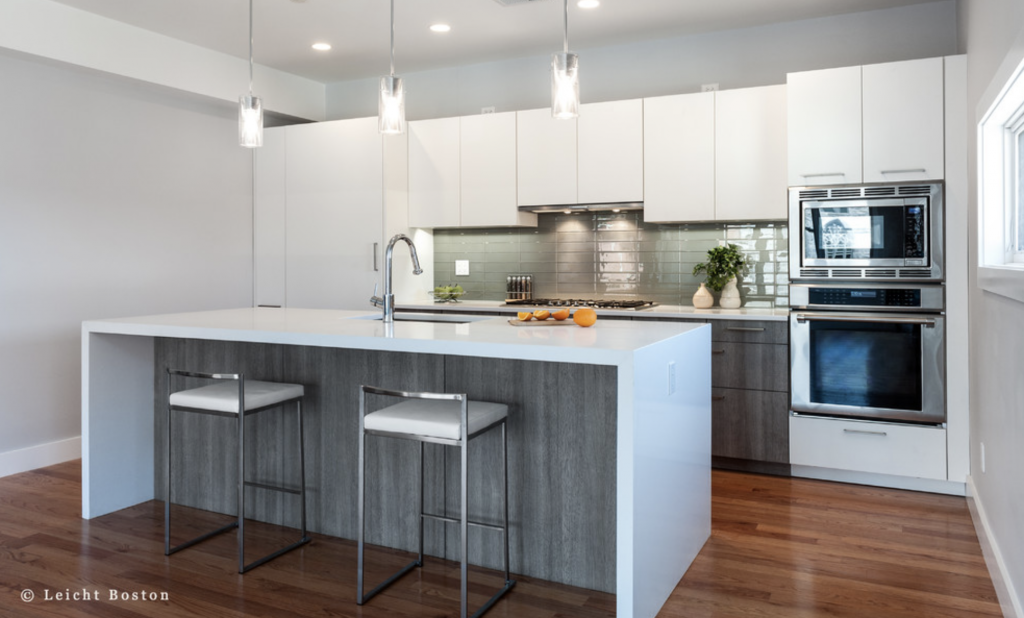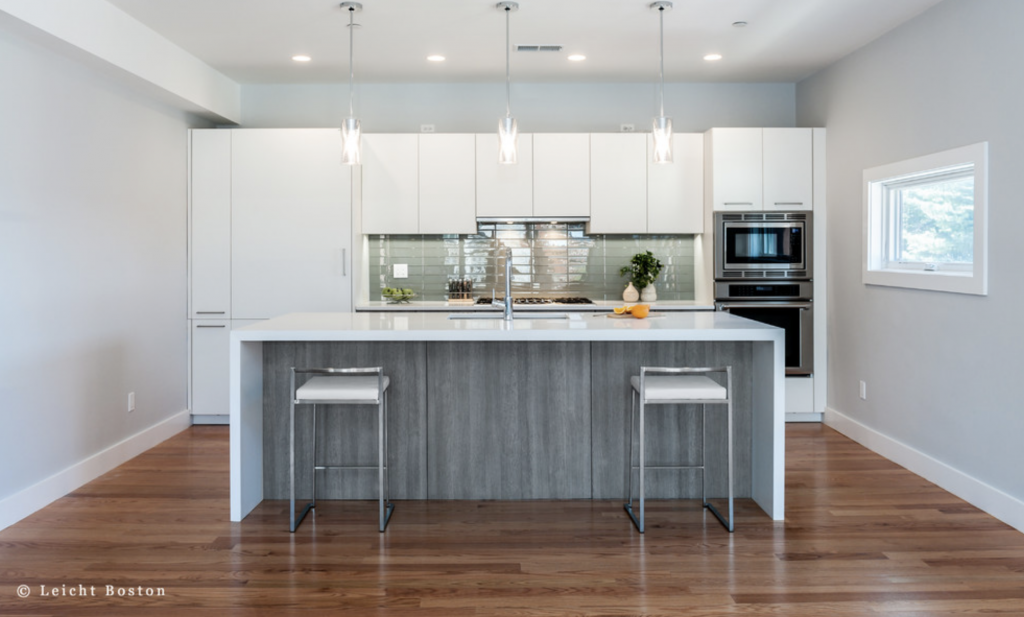 A White and Wood Kitchen
Want a space that's contemporary, yet warm? This sleek space, designed with LEICHT kitchen cabinetry for a Boston condo complex, combines warm wood tones and white-lacquered cabinets for a look that's modern, yet inviting. It also showcases how to make great use of a small urban apartment space. Tour the rest of this petite space on Houzz, here.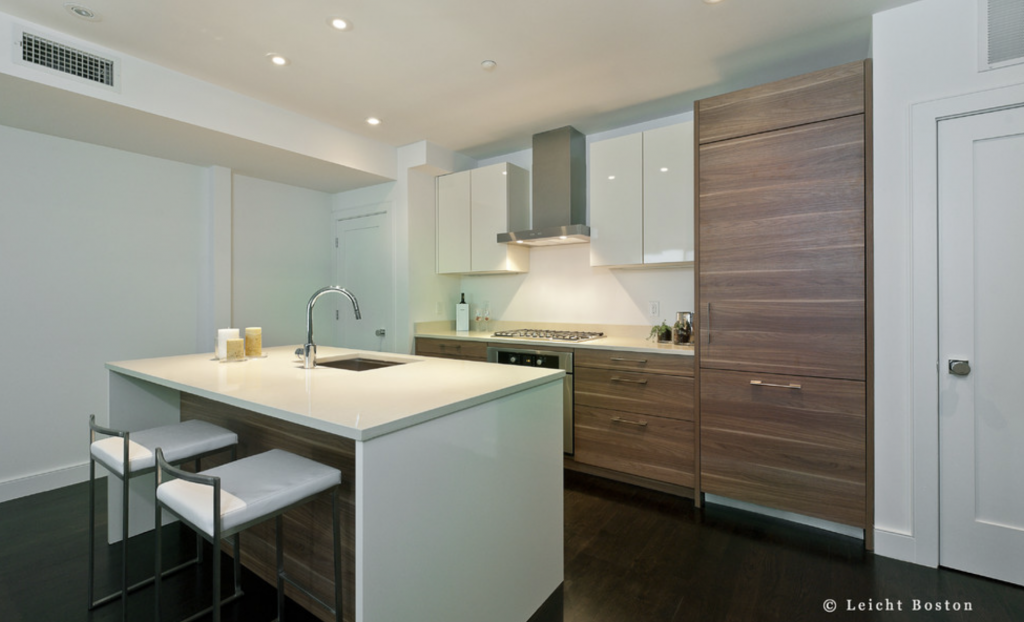 White and Wood, Take Two
This space might look similar to the one above, but if you look closely, you can see that the layout is a bit different. The reason they look so similar is because they were designed for different units in the same Boston condo building. Both spaces feature LEICHT cabinetry, a linear range hood, and custom-paneled appliances. See more of this contemporary kitchen design here.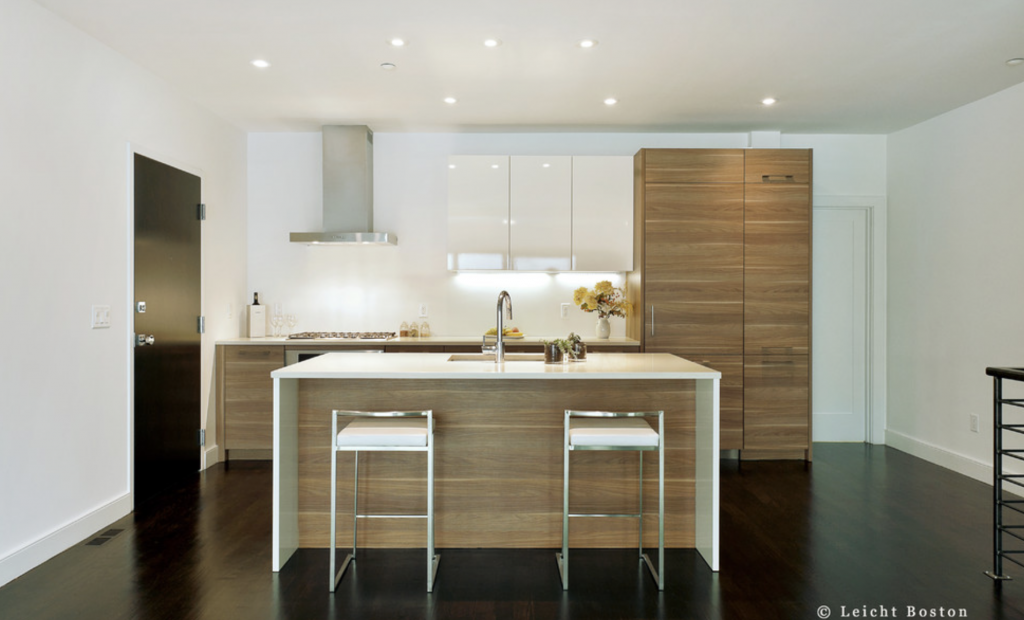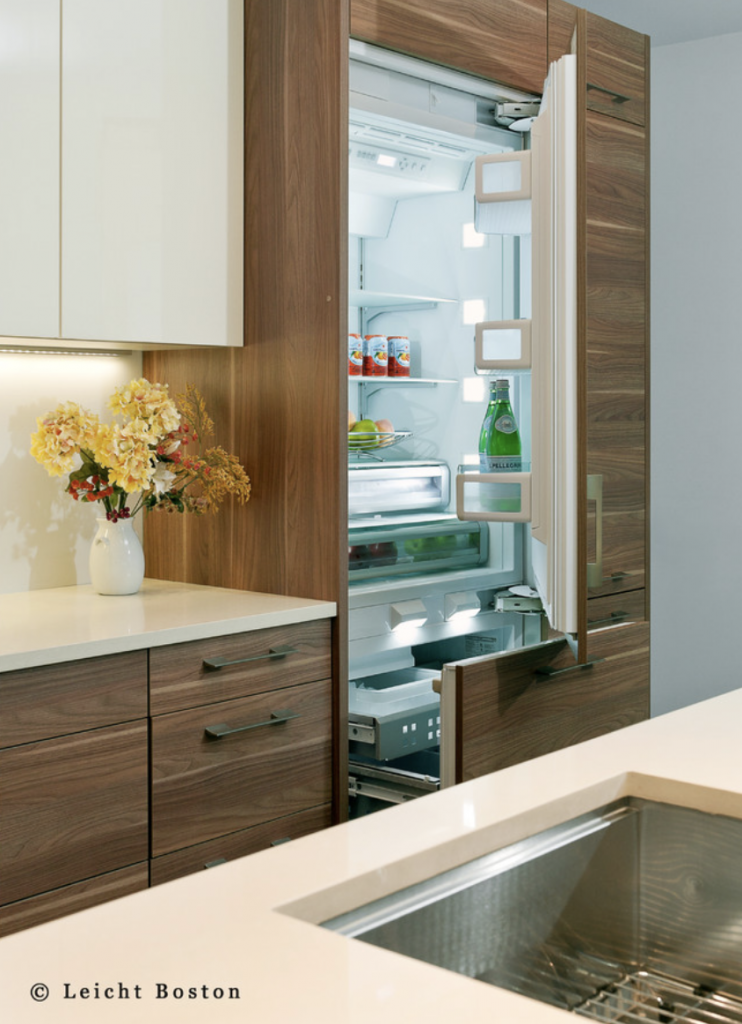 A Colorful Chic Family Space
This more recent project, done in a suburban Boston home is a bolder take on modern design. The chartreuse backsplash is the undeniable visual focal point of the design, adding a dose of fun an energy into this otherwise sleek family kitchen. Another of our favorite elements of the design is the way the natural hardwood flooring contrasts the streamlined design, Tour the rest of this Weston, Mass. modern kitchen on Houzz.
An Open, Neutral Design
This modern kitchen in Cambridge, Mass. feels open and airy thanks to a light-colored palette that's carried across walls, counters, and cabinetry, as well as the lack of upper cabinets. If we had to guess the biggest draw to this photo, however, we'd wager it's the unique patterned backsplash. See more of this kitchen design on Houzz, here.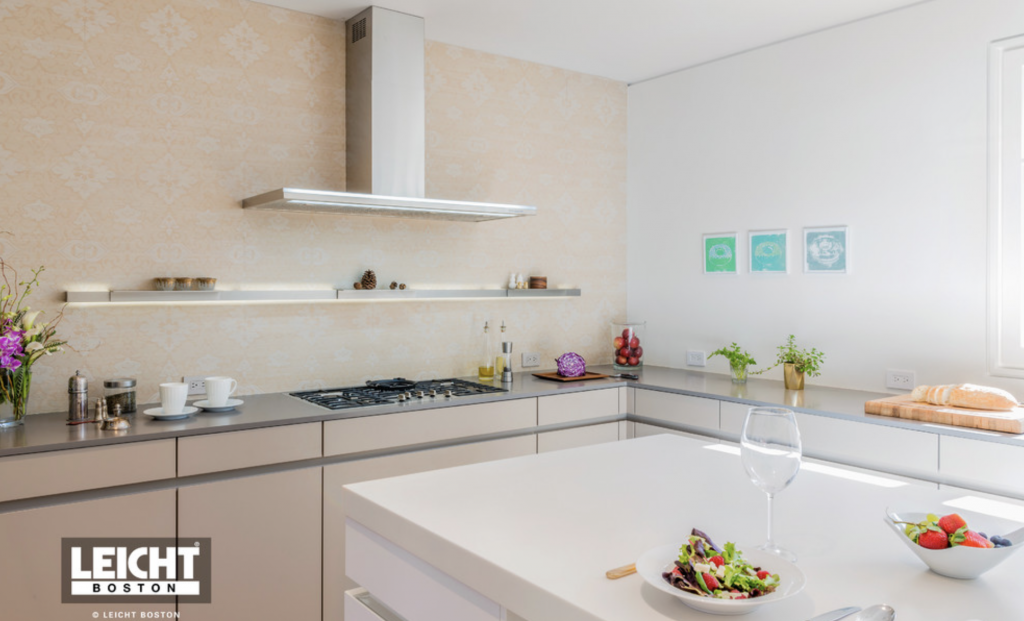 Well-Organized in Winchester
It's not just looks that attract buyers to modern kitchen design. One of the major appeals of modern cabinetry brands are the sophisticated storage configurations that come with them, which makes them ideal for maximizing small living spaces.The LEICHT cabinets and shelving used in this tiny Boston-area kitchen design is a perfect example. Check out more photos of this home on Houzz, here.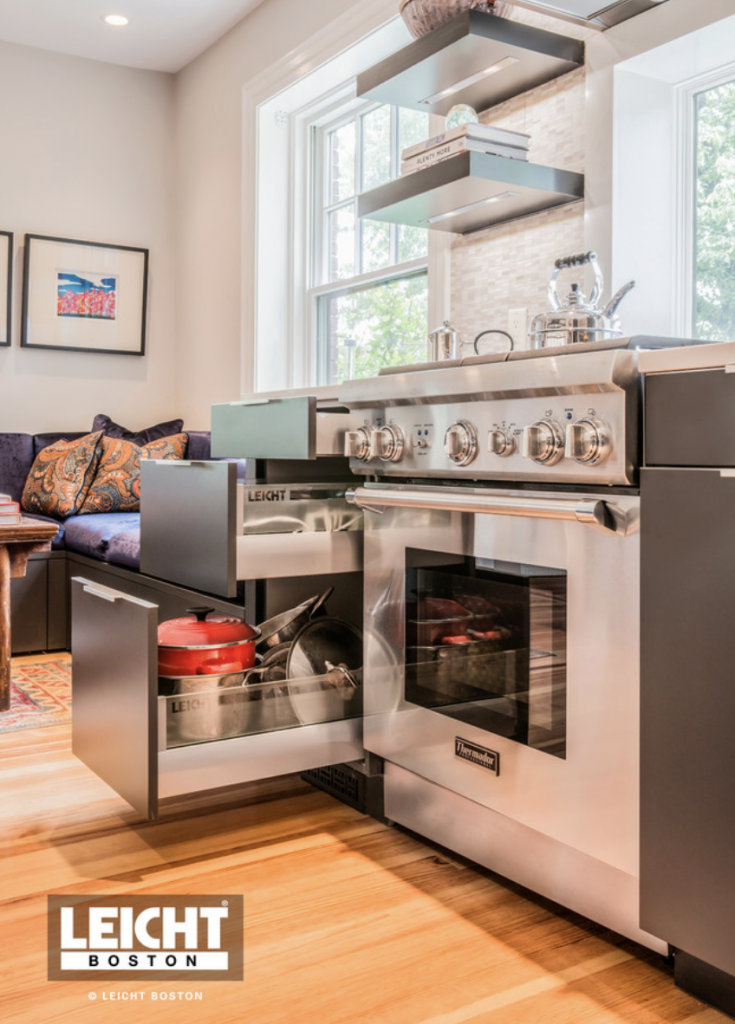 Minimalism at its Best
If you're after minimalist modern style, this next design might win you over. With flat front, lacquered gray and white cabinetry from LEICHT, matching white appliances, clean lines all around, this kitchen design is about as cool as contemporary gets. Tour the rest of this Cambridge, Mass. space on our Houzz profile here.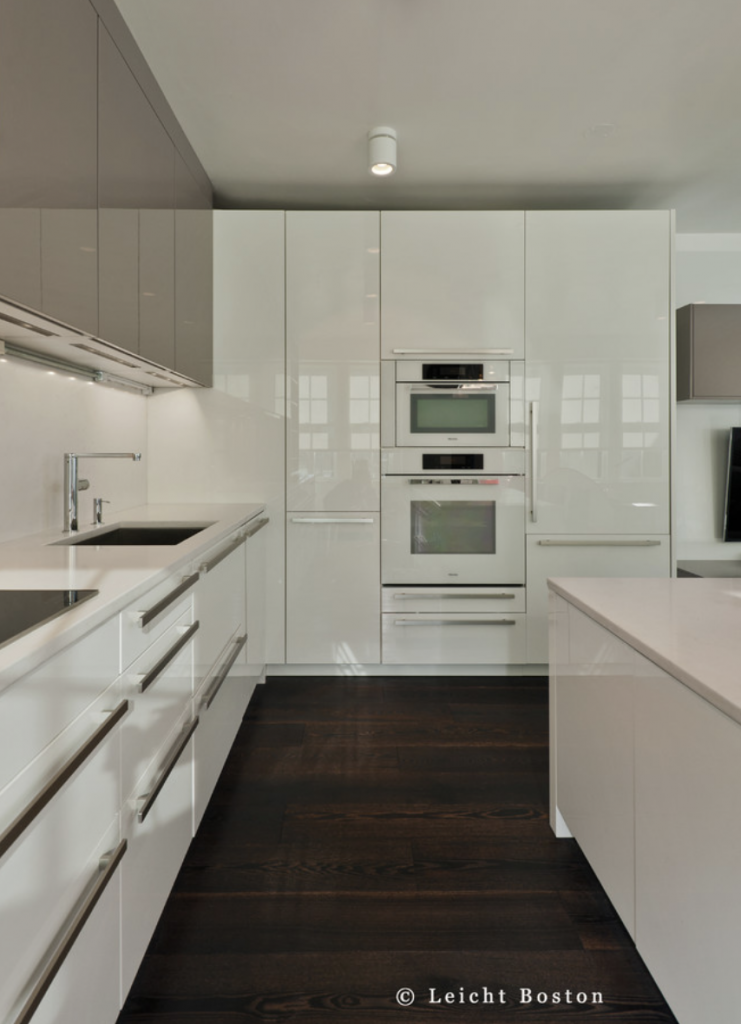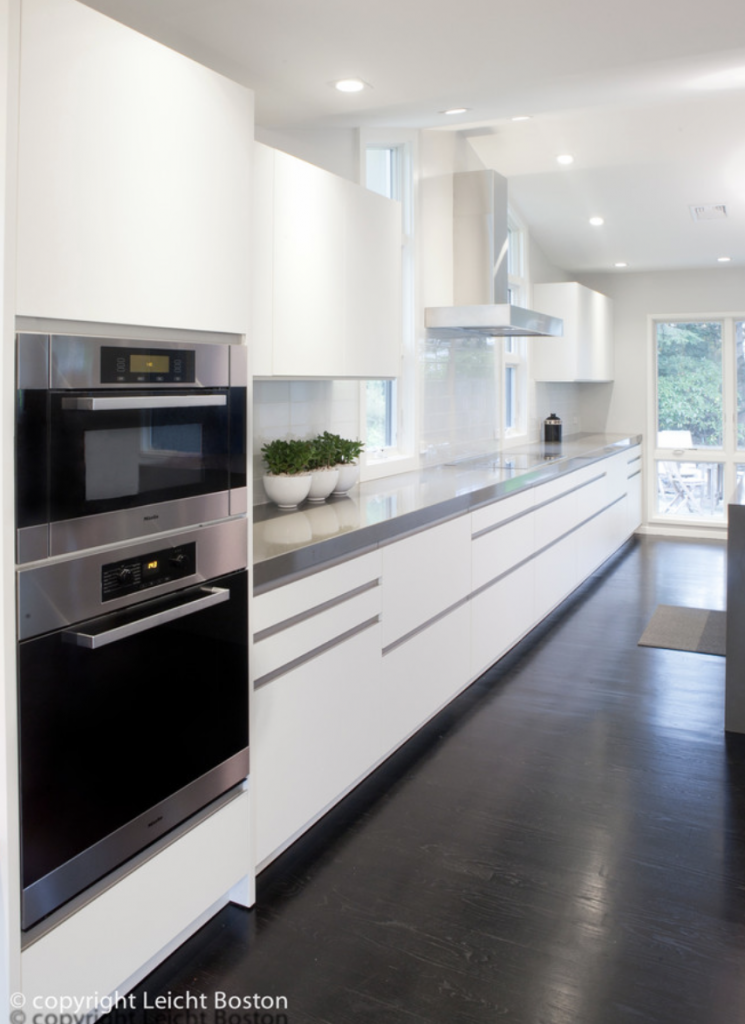 Looking for more inspiration for your modern kitchen design? Visit our Houzz profile to see hundreds of photos from our past project, or stop into our 8,000 square foot modern kitchen and furniture showroom in Boston's Battery Wharf to see display kitchens from brands like LEICHT, Arrital, Team 7 and more.